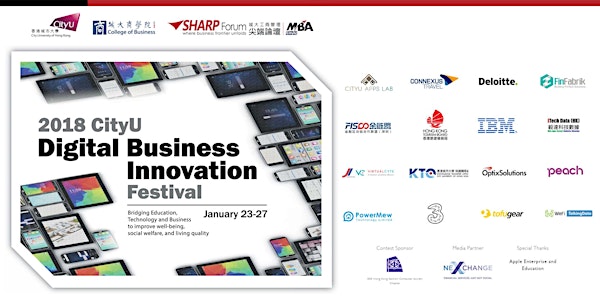 2018 CityU Digital Business Innovation Festival: Symposium I
When and where
Location
Lecture Room 14-221, 14/F Lau Ming Wai Academic Building, City University of Hong Kong 83 Tat Chee Avenue Kowloon Hong Kong
Description
2018 CityU Digital Business Innovation Festival:

Symposium I

In a series of seminars, visionary business leaders will share their views on digital business innovations and their effects on society. Speakers will interact with audience in the Q&A session.
Date: 27 January 2017 (Saturday)
Time:
2:00pm-3:30pm
Emerging Technologies and Business Transformation I


3:30pm-3:45pm Break
3:45pm-5:15pm Emerging Technologies and Business Transformation II
Venue: Lecture Room 14-221, 14/F, Lau Ming Wai
Academic Building, City University of Hong Kong
---
Emerging Technologies and Business Transformation I
Technologies continue to evolve and transform business practices. The speakers in this seminar will discuss how advances in technologies such as virtual reality (VR), artificial intelligence (AI), and the Internet of Things (IoT) have the potential to provoke substantial breakthroughs, create new customer experiences, and lead business transformation.
Speakers



Moderator

Mr. Spencer FUNG
CEO & Founder
Optix Group
Mr. Spencer Fung is the CEO and founder of Optix Group. He has over 17 years of R&D and project management experience in Artificial Intelligence, big data analytics, and optimization solutions. Prior founding Optix, he held various senior management positions in banking and finance industry. He was the Head of IT of Dragonback Capital Ltd. and Head of Infrastructure of Double Haven Capital Ltd. His vision is to promote the use of advanced technology to enhance business operations in different industries. He has been honored with numerous awards for his work, including Hong Kong ICT Awards, Hong Kong Awards for Industries, etc. He holds a Diploma in Electrical Engineering (Distinction), a B.Sc. in Information Technology (First-Class Honor) and a Master of Philosophy from the City University of HK.
Mr. Carson McKELVEY
CEO & Founder
Tofugear
Over 4 years of experience in connected retail technology, customer experience solutions and digital transformation. At Tofugear, Mr. McKelvey has been the driving force behind the market development of Tofugear Omnitech; the company's signature software-as-a-service platform. His practical business and operations experience from China combined with his passion for consumer behavior and retail branding has been an instrumental factor in making the complexity of commercial experiences simple with technology. Mr. McKelvey's tactical approach to connecting brands with consumers is his greatest passion, and he sees the future of retail focused around not any specific channel or journey but in the overall brand experience.
Mr Phillipe Gerard
Chief Creative Officer

JetOne Motion
Philippe joined JetOne Motion in 2016 as Chief Creative Officer and responsible for creating original VR/AR content, experience, and movie. He is also in charge of company's strategic business development in Europe and also actively engaged in innovating VR/AR content and technologies. Prior to joining JetOne Motion, he was the CEO of a French production company – 3DLIZED, and created more than 60 hours of 3D content in the last 6 years. He earned an MBA at ISG Paris, and also earned a Master's Degree in Movie Directing, a PhD in Computer Science in Artificial Intelligence and Image processing and a Master's Degree in Electronic.Art comes first but to get the best of new format (3D, VR, AR, MR) it is important to master the technologies to reach more creative content. Philippe was a project officer at the French government and in charge of more than 200 National research projects related to Cinema, Video, Virtual Reality, AR, Robotic, AI and Sound. Philippe has worked in 3D and VR for prestigious clients, such as David Guetta, Kamel Ouali, Kenzo, Dassault aviation, Peugeot, and Ripley's Believe or Not, just to name a few.
Dr. Michael XUE
Assistant Chief Engineer, Radio Planning & Wireless Network
Hutchison Telecommunications (Hong Kong) Limited
Dr. Michael Xue joined Hutchison Telecommunications (Hong Kong) Limited in 2008. He specialises in researching into novel wireless technologies and collaborating with network and device suppliers to drive technical feasibility studies. Dr. Xue has played a leading role in a wide range of wireless network evolution projects including LTE-Advanced, LTE-Advanced Pro, NB-IoT, LAA and 5G, providing in-depth technical evaluation and strategic proposals to enable new service provision and cater to the evolving needs of consumers and corporate customers. Dr. Xue holds a PhD degree in Electronics Engineering from Queen's University Belfast in the UK.
Moderated by:
Dr. Christoph SCHNEIDER
MBA Associate Director
City University of Hong Kong
Dr. Christoph Schneider is the MBA Associate Director and an Assistant Professor in the Department of Information Systems at City University of Hong Kong. Christoph has extensive experience in the international hospitality industry, and earned a BA in Hotel and Restaurant Administration and a PhD in Management Information Systems at Washington State University. His primary research interests include human-computer interaction, electronic commerce, and computer-mediated collaboration. His research has been published in premier business journals and presented at various international conferences. He is a coauthor of a leading information systems textbook and serves as senior editor at Information Systems Journal.
---
Emerging Technologies and Business Transformation II
Technology-based business process innovations as well as continuing advances in established technologies impact almost every industry. The speakers in this seminar will discuss how innovations in FinTech, new trends in app development, and changes in the digital media landscape disrupt traditional players in various sectors and enable the creation of innovative business models.
Speakers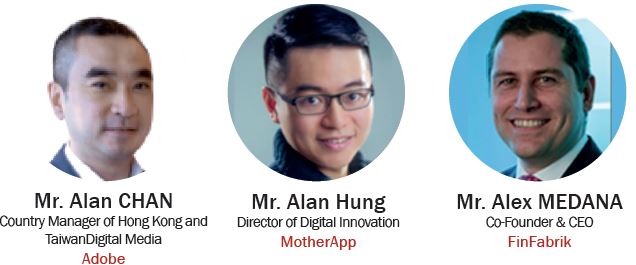 Moderator

Mr. Alan CHAN
Country Manager of Hong Kong and Taiwan, Digital Media
Adobe
Mr. Alan Chan is the Country Manager at Adobe responsible for driving and operating the company's digital media business, comprising Creative Cloud and Document Cloud in Hong Kong and Taiwan. Prior to Adobe, Mr. Chan served several roles at Microsoft Hong Kong including Public Sector Group Director, National Technology Officer and OEM Director.
Mr Alan HUNG
Director of Digital Innovation
MotherApp
Mr. Alan Hung is the Director of Digital Innovation in MotherApp Limited - a digital innovation and solution development company specialising in mobile innovation, smart operations and loyalty solutions. Headquartered in Hong Kong, the company also has offices in China and the United States, offering innovative solutions through mobile, AI, IoT and data analytics. MotherApp's clients include listed companies, multi-conglomerates, government bodies, startups, independent entrepreneurs and many others. Alan graduated from City University of Hong Kong, with a bachelor's degree in computer science and a master's in management from The University of Warwick. As a founding member, Alan was also the General Manager of Asia Pacific in an European fintech startup, specialising in digital solutions in the offshore finance industry.
Mr. Alex MEDANA
Co-Founder & CEO
FinFabrik
Mr. Medana is FinFabrik CEO and co-founder, a HK-based FinTech company building the next generation of platforms to improve the customer journey particularly in capital markets and wealth management. Previously, Alex spent 17 years in various Tier 1 global financial institutions overseeing operations across diverse asset classes, client segments and business lines in Europe and APAC. Mr. Medana is also a HK Fintech Association board member where he advocates innovation and education. His knowledge and drive for simplicity has made him a sought-after mentor, advisor and speaker.
Moderated by:
Dr. Seen-Meng CHEW
Adjunct Professor, College of Business
City University of Hong Kong
Dr. Seen-Meng Chew is an Adjunct Professor in City University of Hong Kong and the Head of Research at FinFabrik, a Hong Kong-based financial technology solutions provider that specializes in capital markets. Previously, he worked as a senior economist at J.P. Morgan, International Monetary Fund and Morgan Stanley, covering Asia Pacific economies. He has also worked as a consultant at NERA Economic Consulting in Chicago, advising multinational corporations on their international pricing strategies. Dr. Chew received PhD in economics from University of Chicago, MPhil in economics from University of Cambridge and BSc in Economics from the London School of Economics.