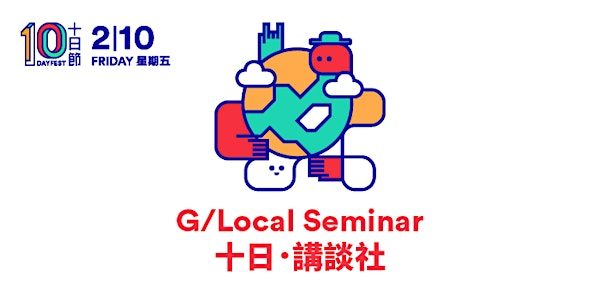 十日節 2015 - 十日•講談社 10DAYFEST 2015 - G/Local Seminar
Event Information
Location
M1603, 16/F, 李嘉誠樓 Li Ka Shing Tower
香港理工大學 The Hong Kong Polytechnic University
紅磡 Hunghom
Hong Kong
Hong Kong
Description
十日•講談社
公共管治、公民社會、社會企業,香港在以上各方面均正面對一個重要的轉捩點。本年度的十日‧講談社邀請了西班牙巴塞隆拿企業及社會創新顧問Oriol Pascual發表演講,探討巴塞隆拿的社會創新進程。由智能城市和開放政府政策,到民間社創運動及社會企業發展,Pascual將以他的豐富體驗,與觀眾分享推動社會創新發展的新模式。專題演講後,講者將與香港政府及社會團體代表進行討論。
主講嘉賓: 西班牙 IQS Tech Factory 總監 Oriol Pascual

討論環節嘉賓: 香港特別行政區政府效率促進組專員 Kim Salkeld, 同舟共濟創辦人 Ming Wong
英語主講,歡迎公眾參加。
G/Local Seminar
Hong Kong is going through a transition period at many levels: governance, civil society, entrepreneurship… This year at the G/Local Seminar we invited Mr. Oriol Pascual, business developer and sustainable innovation consultant, to enlighten us with cases of social innovation from Barcelona. From Smart City and Open Government Initiatives, to innovative grassroots movement and social entrepreneurships, Pascual will share his profound experience on what works and what doesn't in social innovation, shedding light on a new model to help create a better society for tomorrow. The keynote will be followed by a panel discussion with representatives from the Hong Kong Government and community groups.
Keynote Speaker: Oriol Pascual, Director, IQS Tech Factory, Barcelona
Panelists: Kim Salkeld, Head of Efficiency Unit, HKSAR Government; Ming Wong, Co-founder and CEO of Asia Community Ventures
This event will be conducted in English and open for public.
關於 Oriol Pascual
Oriol Pascual是位推動創新及可持續發展的企業拓展者。畢業於美國新澤西州費爾利迪金森大學環境科學系後,他接著完成了荷蘭鹿特丹大學的商界環境管理學碩士課程。其後他為飛利浦於荷蘭埃因霍恩的企業可持續發展部工作。期間他為飛利浦的EcoVision環境管理體系開發了一個內部審計系統。隨後Oriol又到巴塞隆拿為咨詢公司ERM推行環境管理體系,並且進行了環境影響評估。

返回荷蘭後,他到台夫特科技大學為可持續產品設計的範疇擔任研究員。其後,他又加入了Enviu:基金會,為各項社會及環境議題提供業務解決方案。當中他負責了開發及實行Cleantech的企業孵化中心Dnamo,及以股權為基礎的集資平台ImpactCrowd。

最近Oriol則參與了一連串跟社會創新及創業家有關的活動。其中包括為巴塞隆拿設立了一個開放式創新進程,為該城市的房屋問題查找解決方案。同時他也為巴塞隆拿的聖博伊市設計及實行了一個社會創業增長計劃。

Oriol現時是IQS Tech Factory的總監。IQS是位於巴塞隆拿的一所具一百一十年歷史的科技大學,而IQS Tech Factory則是其創業家平台。若希望了解Oriol更多,可登上 Oriolpascual.com 。
Oriol received a bachelor in Environmental Sciences from Farleigh Dickinson University (Teaneck, NJ) and later completed a Master in Environmental Management in Business Communities at Erasmus University (Rotterdam, NL). His professional career started at Philips' Corporate Sustainability Office (Eindhoven, NL) where he developed an internal audit system for Philips' EcoVision environmental management system. Later, Oriol worked at the consulting firm ERM (Barcelona) implementing environmental management systems, as well as performing environmental impact assessments.

Back to The Netherlands, Oriol worked as researcher at Delft University of Technology within the field of sustainable product design. Then, he joined the foundation Enviu: an organization developing business solutions for social and environmental issues. At Enviu, Oriol was responsible for the development and implementation of the Cleantech business incubator Dnamo, and the equity-based crowdfunding platform ImpactCrowd.

Lately, Oriol has been involved on a variety of activities related to social innovation and entrepreneurship. Amongst others, he has worked for the City of Barcelona setting up an open innovation process to find solutions for housing issues in the city, as well as has been responsible for designing and running a social entrepreneurship acceleration program for the city of St. Boi (Barcelona).

Currently, Oriol Pascual is the Director of IQS Tech Factory, the entrepreneurship platform of IQS, a 110-year-old technical university based in Barcelona. You can find more about Oriol at Oriolpascual.com.
關於十日節 About 10DAYFEST
十日節以「設計與社會」為主題,舉辦各樣展覽、工作坊、電影會、沙龍、講座等活動。大眾不僅有機會了解社會創新,還會和本地及國際設計師、政商領袖、學者教授、專業精英一齊創造、推動社會正向改變。2013年十日節首次亮相,共吸引了三萬六千人入場參與;次年亦有五萬八千來自香港及其他亞洲地區的人士參與。十日節2015期待你來參與。
10DAYFEST features a variety of exhibitions, workshops, movie screenings, salons, seminars, and lectures under the theme of "design and society". Participants can learn about social innovation and get to co-create and share with both local and international designers, leading entrepreneurs, scholars, researchers, and makers, all striving for new perspectives and positive changes. 10DAYFEST made its debut in 2013 with over 36,000 visitors; its second edition in 2014 has drawn another 58,000 from Hong Kong and rest of Asia. 10DAYFEST 2015 waiting for you to join!
更多詳情 More details: http://www.10dayfest.hk
Date and time
Location
M1603, 16/F, 李嘉誠樓 Li Ka Shing Tower
香港理工大學 The Hong Kong Polytechnic University
紅磡 Hunghom
Hong Kong
Hong Kong