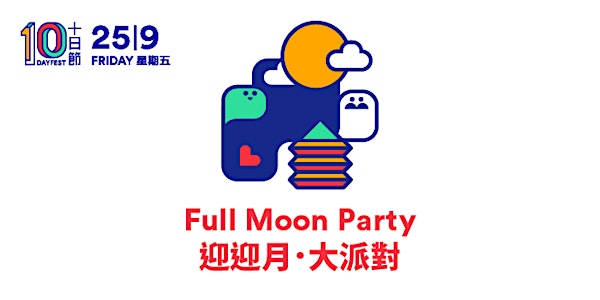 十日節 2015 - 十日·同慶賀︰迎迎月·大派對 10DAYFEST 2015 - Festival Opening: Full Moon Part...
Description
十日·同慶賀︰迎迎月·大派對
本年十日節開幕適逢中秋佳節,理大創新樓將搖身一變成為現代廟會。我們將邀請公眾與家人一共到此共享天倫,以新穎的方式度過這個傳統節日。迎迎月·大派對以隱匿於香港的客家、潮汕,及廣佛地區之非物質文化遺產為主題,把現代設計元素注入表演藝術、工藝及飲食文化,讓參加者感受社創中秋。
門票有限,先到先得。請立即登記。
*所有工作坊已額滿*
Festival Opening: Full Moon Party
Converting the Jockey Club Innovation Tower to a temple fair, this year we invite all families to celebrate the Mid-Autumn Festival in an unconventional way. To kick-start 10DAYFEST 2015, we are throwing a party which features the intangible cultural heritage of Hakka, Chaoshan, and Guangzhou/Foshan. By infusing elements of modern design into performing arts, handicrafts, and regional delicacies, participants will experience a socially innovative Mid-Autumn Festival.
Register now to secure tickets for your family and friends!
*All workshops are full*
關於十日節 About 10DAYFEST
十日節以「設計與社會」為主題,舉辦各樣展覽、工作坊、電影會、沙龍、講座等活動。大眾不僅有機會了解社會創新,還會和本地及國際設計師、政商領袖、學者教授、專業精英一齊創造、推動社會正向改變。2013年十日節首次亮相,共吸引了三萬六千人入場參與;次年亦有五萬八千來自香港及其他亞洲地區的人士參與。十日節2015期待你來參與。
10DAYFEST features a variety of exhibitions, workshops, movie screenings, salons, seminars, and lectures under the theme of "design and society". Participants can learn about social innovation and get to co-create and share with both local and international designers, leading entrepreneurs, scholars, researchers, and makers, all striving for new perspectives and positive changes. 10DAYFEST made its debut in 2013 with over 36,000 visitors; its second edition in 2014 has drawn another 58,000 from Hong Kong and rest of Asia. 10DAYFEST 2015 waiting for you to join!
更多詳情 More details: http://www.10dayfest.hk
Organiser of 十日節 2015 - 十日·同慶賀︰迎迎月·大派對 10DAYFEST 2015 - Festival Opening: Full Moon Party
承蒙香港理工大學及香港賽馬會慈善信託基金支持,理大賽馬會社會創新設計院(J.C.DISI)是亞洲首家致力社會創新的設計院。我們致力匯聚專才、秉持「合眾」(collective)、「跨界」(cross-disciplinary) 及「共同實驗」(co-experiment) 的精神,推動正向改變,將社會創新意念實踐成真。設計師、公民領袖、學者、專家及社會大眾,皆可在座落於賽馬會創新樓的本院共聚一堂,開展關於香港未來的討論。
Initiated by the Hong Kong Polytechnic University and the Hong Kong Jockey Club Charities Trust. The first design institute in Asia dedicated to social innovation. Located at the Jockey Club Innovation Tower, we convene university expertise, curate cross-disciplinary projects, and construct partnerships for social well-being and positive paradigm change.