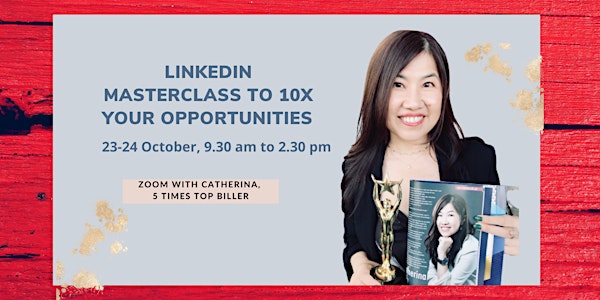 2 day LinkedIn Mastery Workshop to build a personal brand to generate leads
Learn how to build a C.E.O LinkedIn profile and attract tons of opportunities in 30 days
About this event
LinkedIn is the most important platform right now for any job seekers, working professionals , sales professionals and even business owners, SMEs, start-ups , coaches and freelancers.
Now, it's still not too late to enter into the world of LinkedIn and unlock the pot of gold.
Are you overwhelmed with the functions on LinkedIn? Do you get frustrated when you are not getting any career opportunities and have sent tons of resumes with no traction? Do you feel like you are talking to yourself on LinkedIn with no likes, views or comments and just feel like you are totally wasting time not being able to build your brand or even get more leads?
If you resonate with this, then it means you are not understanding how LinkedIn works and you are not leveraging on a powerful platform to attract leads and opportunities.
If you want to change things and be the C.E.O of your own life, then you must not miss my two days sessions on 23 and 24 October. I will help you understand how LinkedIn works and you will discover tons and enjoy the class.
You will realized the things you never knew.
I will show you my 3 step CEO system whereby we will go through in detail about Content, Engagement and Optimization.
I will show you how settings, which is not widely talked about ,can help you optimize your profile in way you had no idea
The different types of content you can produce and how to engage your audience with it. Come across as a thought leader or expert in your industry irregardless of your role.
I will show you the engagement secrets of how to grow you audience and how to even reach out to them effectively
How to create a powerful lead generating LinkedIn profile that can magnetically 10x your opportunities in 30 days
BONUS to you :
Join my community
Get to resit for FREE one time for my future workshops (Value US$297)
Get a free LinkedIn ebook
Certificate of Achievement
WHO IS THIS ESPECIALLY FOR :
Job Seekers
Working Professionals
C-Level
Entrepreneur
Sales Professionals
Coaches and Consultants
Freelancers
BE THE CEO OF YOUR OWN LIFE and sign up for my upcoming workshop on -23-24 October from 9.30 am to 2.30 pm (HK/SIN/MY) time, GMT+8