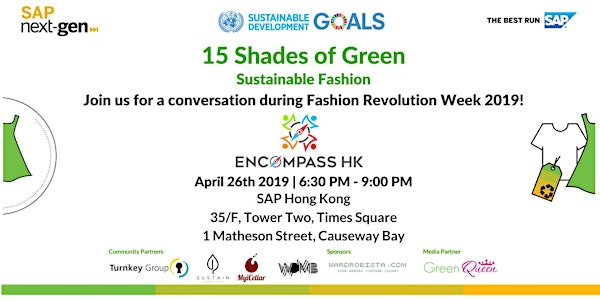 15 Shades of Green: From Environmental Impact to SDG Impact
Join us for a green start to the Fashion Revolution Week!
When and where
Location
35/F, Times Square Tower Two 1 Matheson Street Causeway Bay Hong Kong Hong Kong
Refund Policy
Contact the organiser to request a refund.
About this event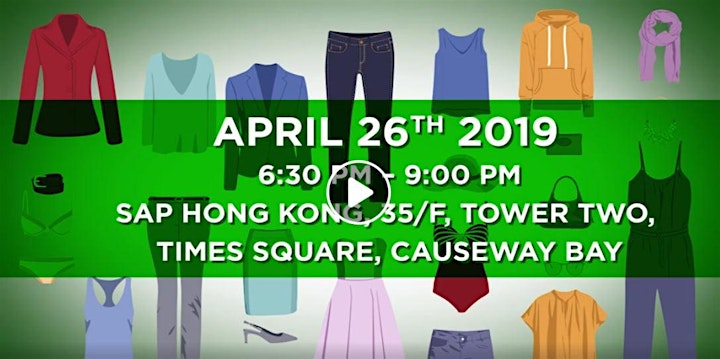 Check out the video above to have a quick look at the event, speakers and penalists.
瀏覽以上視頻查看我們的活動及講者和嘉賓 。
About this Event
15 Shades of Green: From Environmental Impact to SDG Impact
Join us at 15 Shades of Green for a conversation on green fashion during Fashion Revolution Week featuring retail and sustainability thought leaders from our industry. We will bring together local sustainability leaders in Fashion and understand how they are changing the path of fashion, reducing its negative environmental impact and turning it into a driver for the implementation of the SDGs.
Fashion Revolution Week is a week of global campaigns and activities taking place during the week of 24th April to demand greater transparency in the fashion supply chain including putting an end to exploitation, providing decent working conditions, and focusing on sustainable production.
Industries as diverse as food and fashion share a common challenge: how to accelerate the impact of sustainable business practices in resource-intensive industries. A recent McKinsey report highlights the heavy resource demands of the fashion industry and the excessive waste associated with disposed unfashionable or worn-out garments. Making clothes typically requires using a lot of water and chemicals, emitting an average of 23 kilograms of greenhouse gases for every one kilogram of fabric produced. And, nearly three-fifths of all clothing produced ends up in incinerators or landfills within a year of being made.
15 Shades of Green is an evening event being co-curated by local social enterprise Encompass HK and SAP who are championing sustainability global goals. Encompass HK specializes in SDG consultancy services and SDG-themed events which support organizations with their sustainability, diversity and inclusion initiatives. SAP is the market leader in enterprise application software, helping companies of all sizes and industries run better.
Location
35 Floor, Times Square Tower 2, Causeway Bay, Hong Kong
Date and Time
April 26, 630-9pm
Refreshments will be served.
Program Overview
6:30PM - 7:00PM Reception & Photo Shoot for Participants with second-hand clothes (by 2hand)
7:00PM - 7:15PM Welcome Keynote
Anita Varshney, Vice President, Strategy and Innovation, SAP Next-Gen
Benita Chick, Founder & CEO of Encompass HK
7:15PM - 7:20PM Short Video Screening 1
7:20PM - 7:50PM Panel Discussion: Business Case for Sustainable Fashion Industry
Dr. Chris Lo, Associate Professor, Fashion Retail & Marketing, Poly U
Harsha Vardhan, Global Environment Manager, H&M (Production)
Joyce Tsoi, Senior Manager, Supply Chain Sustainability, VF Corporation
Rachel Fleishman, Head, Regional Advocacy & Sustainability Communications, BASF
Wander Meijer, Director Globe Scan
Moderated by Anita Varshney, Vice President, Strategy and Innovation, SAP Next-Gen
7:55PM - 8:00PM Short Video Screening 2
8:00PM - 8:40PM Lightning Talks: Get to meet & know more about our Sustainable Fashion Community in Hong Kong
Cherry Ho, Investment Associate, The Mills Fabrica
Connie Yong, Co-founder, 2hand
Lauren Boucher, Circular Fashion Programme Assistant Manager, ReDress
Sarah Garner, Founder, Retykle
Dorothy Pun, Vice President, Cobalt Fashion; and Founder, 22Factor
Tania Cheung, Product Manager, Unspun
Yosha Gupta, Founder, Meraki
Sarah Fung, Founder, Hula
8:40PM – 8:50 PM Closing Remarks
8:50PM – 9:15 PM Networking
關於活動:
時裝的十五道綠影:從環境影響到實現可持續發展目標
報名參加「時裝的十五道綠影」(15 Shades of Green),與零售業及永續議題的思想領袖一同加入我們於時尚革命周的對話。活動匯集本地將可持續發展的概念融入生產與銷售的行業領袖,你將瞭解他們如何推動綠色時尚的變革、減少服裝生產所產生的環境污染並通過實踐實現可持續發展目標(SDGs)。
時尚革命周於4月24日前後的一星期舉行,該星期由一系列的全球性運動與活動組成,旨在擴大時尚產業鏈的透明度,包括終結勞工剝削、為勞工提供體面的工作環境、將永續概念納入生產重心等。
從食品到時尚的不同產業都共同面臨著一項挑戰:如何加速資源密集型產業的可持續發展進程。一份由管理顧問公司McKinsey & Company所發佈的報告顯示,時尚產業對資源的巨大需求及人們所丟棄的過時或破舊服裝產生了突出與嚴峻的環境問題。生產服裝通常需要消耗大量的水資源與化學物質,每製造一公斤紡織品將排放二十三公斤的溫室氣體。此外,將近六成的成衣在生產后的一年内便送往焚化爐或堆填區處理。
「時裝的十五道綠影」將於當晚由關注可持續發展議題的社會企業Encompass HK與SAP共同舉辦。Encompass HK提供顧問服務及可持續發展目標工作坊,為企業與機構的永續、多元、共融議題提供支援。SAP是企業應用程式市場中領軍人,為不同規模或產業的公司量度更有效的經營模式。
地點
35樓, 時代廣場2座,銅鑼灣,香港
日期 2019年4月26日
入場時間 下午六點三十分
主要活動時間 下午七時至九時
我們將於活動場地提供茶點與飲品
- 節目一覽 -
6:30PM - 7:00PM 接待及二手時裝攝影(服裝由 2hand提供)
7:00PM - 7:15PM Welcome Keynote
Anita Varshney, Vice President, Strategy and Innovation, SAP Next-Gen
Benita Chick, Founder & CEO of Encompass HK
7:15PM - 7:20PM Short Video Screening 1
7:20PM - 7:50PM 專題討論(第一場): 永續時裝產業:商業案例分享
Dr. Chris Lo, Associate Professor, Fashion Retail & Marketing, Poly U
Harsha Vardhan, Global Environment Manager, H&M (Production)
Joyce Tsoi, Senior Manager, Supply Chain Sustainability, VF Corporation
Rachel Fleishman, Head, Regional Advocacy & Sustainability Communications, BASF
Wander Meijer, Director Globe Scan
Moderated by Anita Varshney, Vice President, Strategy and Innovation, SAP Next-Gen
7:55PM - 8:00PM 短片放映(第二場)
8:00PM - 8:40PM 系列短講:瞭解更多本地推動可持續時尚消費與生產的社群
Carine Pin, Co-Director, The Mills Fabrica
Connie Yong, Co-founder, 2hand
Dorothy Pun, Vice President, Cobalt Fashion; and Founder, 22Factor
Kayla Wong, Founder & Creative Director, Basics fo rBasics
Lauren Boucher, Circular Fashion Programme Assistant Manager, ReDress
Rico Wong, Deputy Chief Executive, The Conservancy Association
Sarah Fung, Founder, Hula
Sarah Garner, Founder, Retykle
Tania Cheung, Product Manager, Unspun
Yosha Gupta, Founder, Meraki
8:40PM – 8:50 PM 閉幕
8:50PM – 9:15 PM Networking