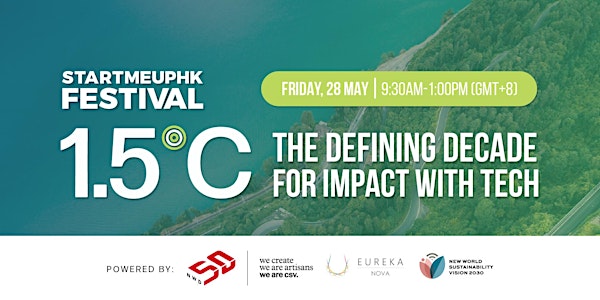 1.5 ºC Summit
Leading experts, entrepreneurs and stakeholders from Hong Kong and abroad to discuss actions to reduce emissions in the next 10 years
About this event
Link to join event - Select "Register for this Event" or "Enter Event": https://www.airmeet.com/e/533507b0-b397-11eb-a313-6dad8626866e
If you have any issues accessing event, email us at info@eurekanova.com
Technical requirements:
We will be using the Airmeet platform for this event. Some things to note about the platform:
1. You will need to register on the Airmeet platform prior to joining the event, so please allow a minute to complete the registration process
2. Airmeet platform not available in Mainland China; if you are joining us from Mainland China, please make sure you have a VPN
3. The mobile version does not support the networking functionalities. To take advantage of our open networking portion of the event, please make sure you log on through a desktop browser, preferably through Chrome. Safari and Opera are not supported
--
The 1.5°C Summit will feature leading experts, entrepreneurs, investors and stakeholders from Hong Kong and abroad discussing the actions that need to be taken in order to drastically reduce emissions in the next ten years.
IPCC scientists have warned that a 1.5 degrees Celsius rise in temperatures is a crucial threshold for avoiding the most dangerous and irreversible effects of climate change.
To prevent the planet from passing the point of no return, this is the defining decade.
The 1.5°C Summit will feature curated talks and expert panels on how various industry and startup players are contributing towards the fight against climate change. We will cover a wide variety of industries such as energy, building construction and management, food systems and alternative protein, fashion, and more, showcasing how technology can play a part in creating genuine change.
Join us for this unique opportunity to meet like-minded people to discuss the challenges and opportunities related to meeting sustainability goals in Hong Kong, the Greater Bay Area and abroad!
More information here.
--
Agenda (HKT/GMT+8)
09:30-09:40 a.m. 1.5C Summit Intro by Ben Wong, Head of Open Innovation, Eureka Nova
09:35-09:40 a.m. Welcome Remarks by Jimmy Chiang, Associate Director General of InvestHK
09:40-09:50 a.m. Opening Remarks by Wong Kam-sing, Secretary for the Environment
09:50-10:20 a.m. Keynote #1: "China's 1.5 degree transition: what to expect and what to do" by Jonathan Woetzel, Senior Partner, McKinsey & Company, and Director, McKinsey Global Institute
-----------------------------------------------------------------------
10:20-11:05 am Panel Discussion #1& 2
Panel #1: You Are What You Eat: Understanding How Food Impacts Climate Change
Moderator: Guillermo Ginesta, Managing Director, Brinc Hong Kong
Panelist: Diego Dultzin Lacoste, Co-founder, OnTheList & Phenix
Panelist: Carrie Chan, Co-founder and CEO, Avant Meats
Panelist: Blair Crichton, Co-Founder, KARANA
Panel #2: Net Zero Future for Cities
Moderator: Ellie Tang, Head of Sustainability, New World Development
Panelist: Mr. Vincent Petit, Senior Vice President, Senior Vice President, Global Strategy Prospective and External Affairs, Schneider Electric
Panelist: Brandon Ng, CEO, Ampd Energy
Panelist: Entela Benz-Saliasi, CEO, IntenseL
-------------------------------------------------------------------------
11:05-11:10 a.m. Break
11:10-11:30 a.m. Keynote #2 by William McGoldrick, Regional Managing Director, The Nature Conservancy
--------------------------------------------------------------------------
11:30-12:15pm Panel Discussion #3 & 4
Panel #3: Powering Our Lives: Investing in a Renewable Energy Future
Moderator: Dr Vincent Cheng, Fellow and East Asia Director of Sustainability, Arup
Panelist: Bradley Way, Director, Corporate Energy Services, CLP Innovation
Panelist: Yulanda Chung, Head of Sustainability, DBS (SG)
Panelist: Prof. Davis Bookhart, Senior Manager and Head, HKUST Sustainability Unit
Panel #4: Creating Clean Industries: Reimagining Industrial Operations
Moderator: Julie Wong, Assistant General Manager - Sustainability, NWS Holdings
Panelist: Pat Woo, Partner, KPMG China and Global Co-Chair, Sustainable Finance, KPMG IMPACT
Panelist: Edwin Keh, CEO, The Hong Kong Research Institute of Textiles and Apparel
Panelist: Olivier Klein, Chief Technologist, Asia-Pacific & Japan, Amazon Web Services
-------------------------------------------------------------------------
12:15-01:00pm: Roundtable discussion and networking
--
Organizer Info
Eureka Nova is a leading open innovation platform that empowers technology startups to co-create within the New World Group ecosystem of culture, creativity and innovation.
Accelerator programs
Open competitions
Sandboxes and innovation lab
--
Have an inquiry? Contact us at info@eurekanova.com.