亞太市場數碼營銷策略 - 電商、自動化營銷及數碼戶外廣告實戰分享
About this event
發展中國及東南亞市場已經是每間香港企業及電商的大趨勢了,但是到底怎樣執行,或有什麼工具和平台可以幫助企業及電商成功打進中國及東南亞市場?
HKEBA邀請Swire Coca-cola HK的Lui Tong、Salesforce的Arthur Ng (Director, Alliance Channels GTM North Asia) 及Asiaray的Atung (General Manager, Group IT),以實例分享透過自動化營銷(Marketing Automation)、客戶關係管理系統(CRM system)、數碼營銷及戶外廣告,如何成功有效率地在亞太區拓展業務!立即報名,約定你5月7日活動見!
活動詳細 Details :
日期 Date May 7 2021 (Fri)
時間 Time 16:00 - 19:00
地點 Location 長沙灣長沙灣道868號LiFung Tower一樓 (https://goo.gl/maps/d58seaP421fbZVBt7)
語言 Language 廣東話 Cantonese
本次活動提供線上參與選項。Online participation is available.
Webinar link: https://zoom.us/webinar/register/WN_qXuwGMdUR5KPbF86TbsszA
Webinar passcode: 869086
Webinar ID: 914 1764 1718
活動流程 Rundown :
16:00 活動登記及聯誼 | Registration & Networking
16:30 – 17:50 演講嘉賓及現場討論 | Speaker sharing & Panel Discussion
17:50 – 18:20 問答環節 | Q&A section & Closing
18:20 - 19:00 聯誼活動 | Networking
演講嘉賓 Keynote Speakers:
Lui Tong - Director, Direct to Consumer @Swire Coca-cola
Arthur Ng - Director, Alliance Channels GTM North Asia @Salesforce
Atung Lee - General Manager, Gorup IT @Asiaray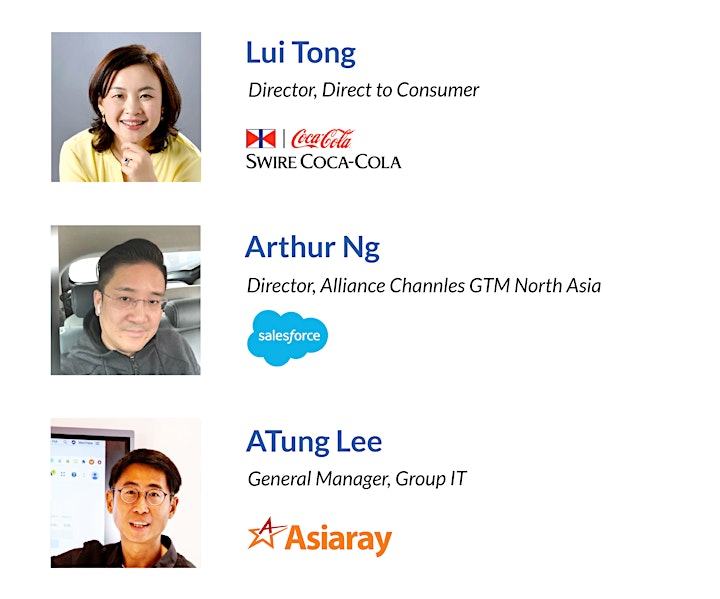 鳴謝及免責聲明
在此刊物上/活動內(或項目小組成員)表達的任何意見、研究成果、結論或建議,並不代表香港特別行政區政府或工商機構支援基金評審委員會的觀點。

*參加是次講座的參加者將自動免費成為 HKEBA 會員並收到本會經電郵發出的會訊*Participants that join this seminar will be automatically members of HKEBA and may receive email newsletter.
贊助機構:
Hong Kong Wireless Technology Industry Association
Hong Kong Internet & eCommerce Association
Hong Kong Retail Technology Industry Association
Hong Kong Exporters' Association
Hong Kong Retail Management Association
Innovative Entrepreneur Assoication
Hong Kong Information Technology Joint Council
Hong Kong Information Technology Federation
Communications Association of Hong Kong
Hong Kong Association of Interactive Marketing Limited
The Association of Cloud and Mobile Computing Professionals Limited
Information Systems Audit and Control Association
Hong Kong Computer Society
Hong Kong Science and Technology Parks Corporation
SME Global Alliance
Hong Kong Software Industry Association Limited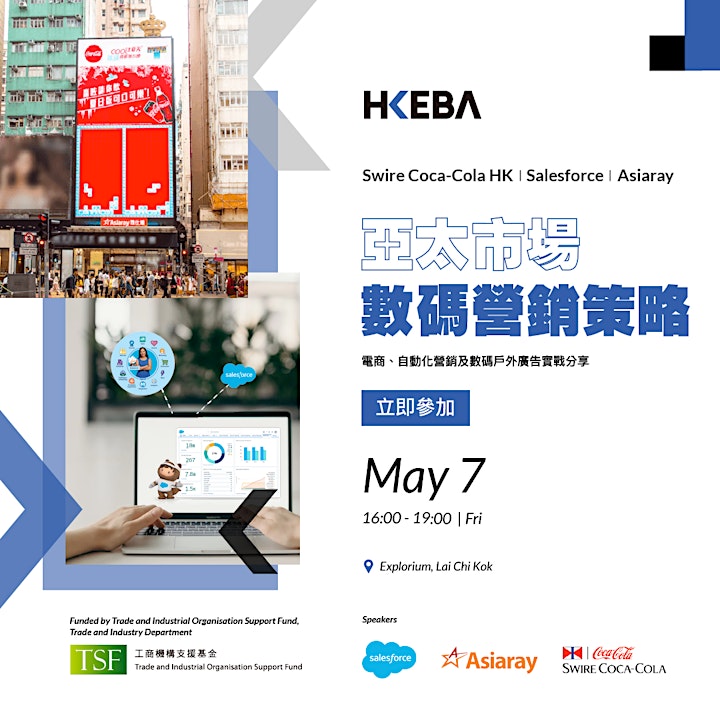 Organiser of 亞太市場數碼營銷策略 - 電商、自動化營銷及數碼戶外廣告實戰分享
Hong Kong E-Commerce Business Association (HKEBA) is a non-profit organization aiming to build a world-class e-commerce industry in Hong Kong by educating and promoting the latest digital transformative technologies, online and offline omni-channel commerce services, and software technologies to the Information Technology sector and corporations.