誠邀您參加2020西班牙《卡斯蒂利亞-拉曼恰》葡萄酒商務連線會議,為您帶來充滿西班牙風情的葡萄酒。
About this event
西班牙IPEX與《WSD酒訊雜誌》誠摯邀請您參加2020西班牙《卡斯蒂利亞-拉曼恰》葡萄酒商務連線會議。
因疫情影響,本次將有別於往年實體品酒會,以網路視訊的一對一會議模式,邀請酒莊代表透過視訊解說酒莊的風土人情及帶領品飲,藉由美酒更了解卡斯蒂利亞-拉曼恰產區的歷史文化。
We are delighted to invite you to join our Inaugural Virtual 2 Business Wine Meetings© event featuring wines from Castilla-La Mancha, Spain, presented by Perspectiva Asia Ltd., IPEX Castilla-La Mancha, Hong Kong Office and Wine and Spirits Digest.
We are bringing together Spanish wineries and Taiwan importers and distributors, in an innovative, unique, and safe business environment, providing an effective wine tasting experience, almost the real business meeting!
Wineries' representatives will join the V2B Wine Meetings© by videoconference to introduce and taste their wines together with Taiwan professionals attending the wineries' individual booths.
台北晶華酒店
台北市中山區中山北路二段39巷3號
地點: 4樓貴賓廳 1-3
時間: 14:00 至 18:30
※本活動僅限進口商、經銷商、酒專、酒類採購、餐飲通路等業內人士參加。
Regent Taipei Hotel
No. 3, Lane 39, Section 2, Zhongshan North Road, Zhongshan District, Taipei City
Venue: 4/F VIP ROOM1-3
Time: 14:00 to 18:30
※ The event is for industry professionals only
報名請填寫線上表單,將由專人審核,待主辦單位回覆確認後,將進行後續報名手續。
任何詢問和報名,歡迎聯繫吳佩佩 perspectiva@hk.net.
Please fill in the Google form for registration. Upon successful registration, you will receive an email from our colleague to confirm the details of the meeting.
For any enquiries, please contact Ms. Pey Pey Wu at perspectiva@hk.net.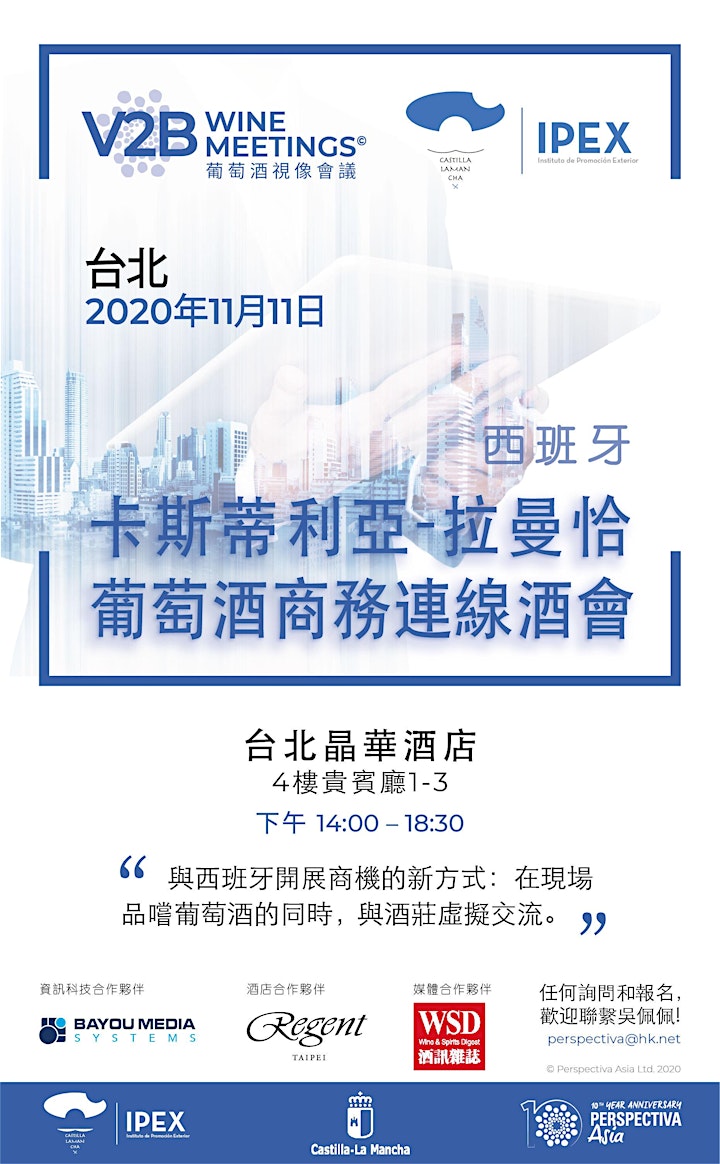 Organiser of 西班牙卡斯蒂利亞-拉曼恰 | 葡萄酒商務連線會議 (台北站)