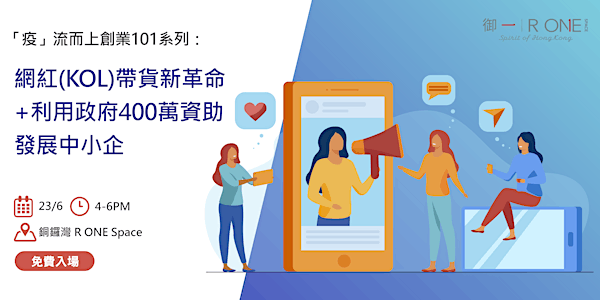 疫流而上創業101系列 - 網紅(KOL)帶貨新革命 + 如何利用政府400萬資助發展中小企
R ONE Space's 4th seminar under the latest start-up event series is coming soon! R ONE Space《「疫」流而上創業101系列》第四撃活動講座即將舉行!
When and where
Location
R ONE Space Causeway Bay 26F, Sino Plaza 255-257 Gloucester Road Causeway Bay, HKI Hong Kong
About this event
R ONE Space's 4th seminar under the latest start-up event series is coming soon! We have invited Chois Choi, principal of the ATV KOL training school, to share the new trend of influencer marketing in China. Topics include:
1) Classification of live stream marketing platforms in China;
2) The best media platform for Hong Kong companies in China; and
3) China's KOL laws and latest National Radio and Television Administration's regulations.
Meanwhile, we will also share about how to apply and make use of the government's HK$4 million funding to develop your companies.
Event Details:
Date:23rd June, 2020 (TUE)
Time:4-6PM
Venue:R ONE Space (26/F, Sino Plaza, 255-257 Gloucester Road, Causeway Bay)
Language:Cantonese
This event is free admission and special gift is prepared for each participant.
Speakers:
1) Roger Li - Senior Sales Manager of R ONE Space
2) Chois Choi - Strategy Consultant of Source Network Media Group Limited
3) Angel Tam - PR & Events Director of Wisdomcome Group
Limited seats only. RSVP now!
R ONE Space《「疫」流而上創業101系列》第四撃活動講座即將舉行!這次特別邀請到亞洲電視網紅培訓學院校長—蔡承浩先生跟大家分享中國網紅帶貨的新趨勢,其中就包括有以下主題:
1)中國眾多直播帶貨平台如何分類;
2)香港最適合的中國媒體平台;以及
3)中國網紅法及廣電局最新規例
同時,我們亦會為大家介紹如何申請及利用政府的400萬資助來發展中小企,助你在疫情中亦能繼續拓展業務。
活動詳情:
日期:2020年6月23日(二)
時間:下午4時 - 6時
地點:R ONE Space(銅鑼灣告士打道255至257號信和廣場26樓)
語言:廣東話
活動費用全免,參加者更可獲得精美禮物一份。
講者:
1) Roger Li - Senior Sales Manager of R ONE Space
2) Chois Choi - Strategy Consultant of Source Network Media Group Limited
3) Angel Tam - PR & Events Director of Wisdomcome Group
名額有限。請即到以下網站報名以預留位置!