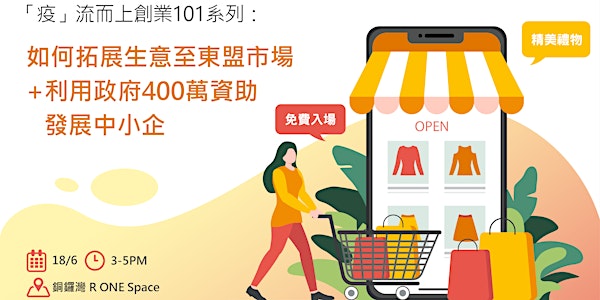 疫流而上創業101系列 - 如何拓展生意至東盟市場+如何利用政府400萬資助發展中小企
Want to enter the e-commerce market of ASEAN member states? 想知道你的網上商店如何才可以進入東盟市場?
When and where
Location
R ONE Space Causeway Bay 26F, Sino Plaza 255-257 Gloucester Road Causeway Bay, HKI Hong Kong
About this event
Want to enter the e-commerce market of ASEAN member states? Let's join the 3rd seminar under R ONE Space's latest start-up event series on this Thursday!
The speakers will share about 1) how to expand your business into ASEAN, as well as 2) how to make use of the government's HK$4 million funding to develop your companies. This can help you to discover new business opportunities outside Hong Kong.
This event is free admission and special gift is prepared for each participant.
Event Details:
Date:18th June, 2020 (THUR)
Time:3-5PM
Venue:R ONE Space (26/F, Sino Plaza, 255-257 Gloucester Road, Causeway Bay)
Language:Cantonese
Speakers:
1) Fione Tam - Co-founder and CEO of 28Mall
2) Angel Tam - PR & Events Director of Wisdomcome Group
3) Graly Mok – Senior Sales Manager of R ONE Space
Limited seats only. RSVP now!
想知道你的網上商店如何才可以進入東盟市場?那你就一定要參加將於本星期四舉行的R ONE Space《「疫」流而上創業101系列》第三撃的活動講座了!
是次活動的講者將會跟大家分享1) 如何拓展生意至東盟市場、以及 2) 如何利用政府400萬資助來發展中小企,從而助你發掘香港以外的商業新機會。
是次活動費用全免,參加者更可獲得精美禮物一份。
活動詳情:
日期:2020年6月18日(四)
時間:下午3時 - 5時
地點:R ONE Space(銅鑼灣告士打道255至257號信和廣場26樓)
語言:廣東話
講者:
1) Fione Tam - Co-founder and CEO of 28Mall
2) Angel Tam - PR & Events Director of Wisdomcome Group
3) Graly Mok – Senior Sales Manager of R ONE Space
名額有限,先到先得。請即報名!