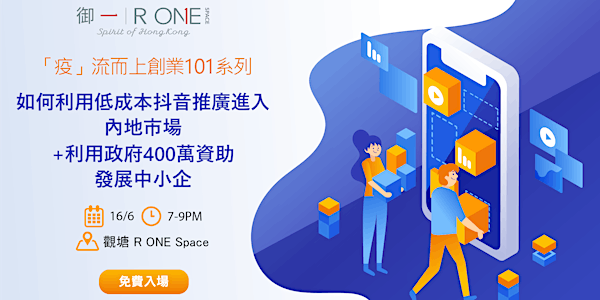 疫流而上創業101系列 - 如何利用低成本抖音進入內地市場+ 如何利用政府400萬的資助發展中小企
The 2nd seminar of R ONE Space's latest start-up event series is coming soon! 《「疫」流而上創業101系列》活動第二撃即將舉行!
When and where
Location
R ONE Space 御一空間 22/F, One Pacific Center 414 Kwun Tong Road Kwun Tong, KOW Hong Kong
About this event
With "China market" as the main theme, our speakers will share with you 1) how to use Tiktok as your promotional tool with low cost, and 2) how to make use of the government's HK$4 million funding in developing your SME business.
All participants can enjoy free admission with a special gift.
Event Details:
Date:16th June, 2020 (TUE)
Time:7-9PM
Venue:R ONE Space (22/F, One Pacific Centre, 414 Kwun Tong Road, Kwun Tong)
Language:Cantonese
Speakers:
1) Franco Cheung - Marketing Manager of NSC
2) Angel Tam - PR & Events Director of Wisdomcome Group
3) Yuki Chiu - Sales Manager of R ONE Space
Limited seats only. RSVP!
R ONE Space《「疫」流而上創業101系列》活動第二撃即將舉行!
這次為中國市場為主題,特別為大家介紹 1) 怎樣透過抖音進行低成本推廣,以及 2) 如何利用政府400萬資助來發展中小企,讓你的公司可輕鬆在中國尋找更大商機。
是次活動費用全免,參加者可同時獲得精美禮物一份。
活動詳情:
日期:2020年6月16日(二)
時間:晚上7時 - 9時
地點:R ONE Space(觀塘觀塘道414號1亞太中心22樓)
語言:廣東話
講者:
1) Franco Cheung - Marketing Manager of NSC
2) Angel Tam - PR & Events Director of Wisdomcome Group
3) Yuki Chiu - Sales Manager of R ONE Space
名額有限,先到先得。請即報名!