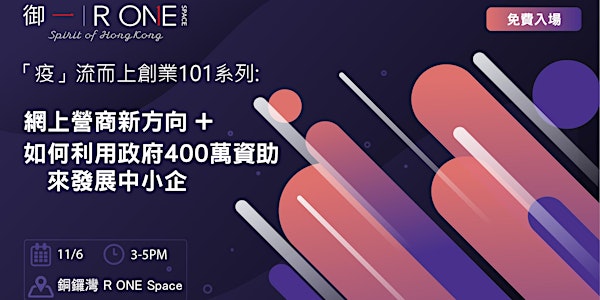 「疫」流而上創業101系列 - 網上營商新方向+ 如何利用政府400萬的資助發展中小企
During this economic downtown, R ONE Space is going to hold an event series and help you to walk through the difficulties.
When and where
Location
R ONE Space Causeway Bay 26F, Sino Plaza 255-257 Gloucester Road Causeway Bay, HKI Hong Kong
About this event
The 1st event will teach you 1) how to apply and make use of the 4 million government funding to develop your company, and 2) how can the Facebook Shops' new function increase your customer base!
The event is free admission. And all participants can get a special gift as well.
Event Details:
Date:11th June, 2020(THUR)
Time:3:00-5:00 P.M.
Venue:R ONE Space@Causeway Bay(26/F, Sino Plaza, 255-257 Gloucester Road, Causeway Bay)
Language:Cantonese
Speakers:
1) Bennet Tsui - Director of 5 Miles Lab Digital Advertising Agency
2) Angel Tam - PR & Events Director of Wisdomcome Group
3) Roger Li - Senior Sales Manager of R ONE Space
Limited seats only. RSVP!
在面對經濟不景氣的情況下,R ONE Space特別舉辦《「疫」流而上創業101系列》活動,跟各位逆境同行,一起走出困局。
活動的第一擊,先「從內到外」教大家在逆境中尋找新商機:
「從內」—如何申請並充分利用政府資助的400萬元來發展你的公司;
「到外」—為你介紹最新網上營銷新方向—Facebook營商可能會是你打開客源的好幫手。
是次活動費用全免,所有參加者更可獲得精美禮物一份!
活動詳情:
日期:2020年6月11日(四)
時間:下午3 - 5時
地點:銅鑼灣R ONE Space(銅鑼灣告士打道255至257號信和廣場26樓全層)
講者:
1) Bennet Tsui - Director of 5 Miles Lab Digital Advertising Agency
2) Angel Tam - PR & Events Director of Wisdomcome Group
3) Roger Li - Senior Sales Manager of R ONE Space
名額有限,請即報名!