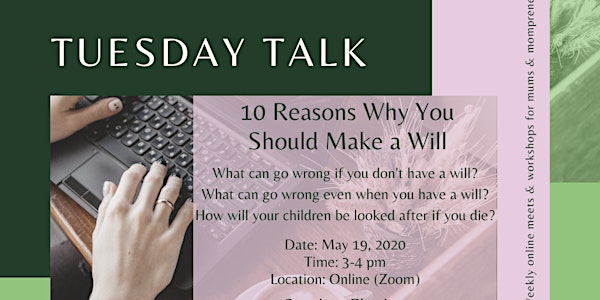 10 Reasons Why You Should Make a Will
This webinar will talk about why you should look at making a will in Hong Kong
About this event
This webinar will cover -
What can go wrong if you don't have a will?
What can go wrong even when you have a will?
How will you ensure that your loved ones are protected?
Getting a will made is the best way to ensure that your wishes are carried out as you intended after your are gone. It protects your family from stress and makes them feel secure. Join our #TuesdayTalk to learn more.
About the Speaker: Elsa Law
Ms. Elsa Law is the Founder and Principal Solicitor of Elsa Law & Co. Solicitors. She was the 1st in-house counsel to Kowloon Canton Railway Corporation (now the MTR) helping the Corporation to safeguard and prevent business risks exposure and losses, and as counsel for Ryoden (Holdings) Ltd (now the Mitsubishi Elevator Hong Kong Co. Ltd.) handling and settling numerous claims arising from the Garley Building fire disaster that took place 1996. Ms. Law and her company's vision is to provide clarity, direction and practical solutions to her clients, to empower and enhance business expansion and growth as well as that of individuals, and hence a more harmonious community for all.
Mums@PLAY would like to support the community through these testing covid-19 times and is offering #TuesdayTalk sessions absolutely FREE.
You can follow us on Facebook https://www.facebook.com/mumsatplayevent/ or https://www.instagram.com/mumsatplayevent/