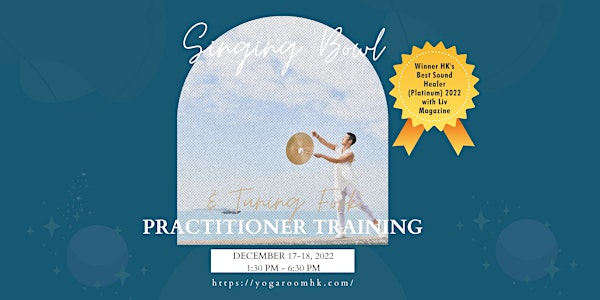 10 Hour Singing Bowl and Tuning Fork Practitioner Training
This workshop is designed for people who want to be a Himalayan singing bowl and tuning fork practitioner.
When and where
Location
The Yoga Room 104 Jervois Street 4th Floor Hong Kong, HKI Hong Kong
About this event
Malbert is an experienced sound meditation teacher. He will teach you his unique approach to self-healing, how to use sound to relax and create therapeutic self-care and 1-on-1 experiences with interactive exercises.
This workshop will enhance your skill and confidence to use these transformational sacred healing tools for yourself, family, friends and clients.
DECEMBER
Dates: 17-18 December 2022
Time: 1:30 PM - 6:30 PM
What you will learn from this intensive workshop:
Brief history and different types of singing bowls
Different ways to hold a singing bowl
Various types of mallets for different functions
Basic and advanced techniques to make the bowl sing and optimise its vibration
How to use singing bowls for meditation and calm the mind
One-bowl technique to balance chakras
Use of tuning fork for self-cleansing, calming and mood-elevating,
Use of tuning fork for self-massage to treat headaches, sinus, body aches and release muscle tension
How to use the singing bowl for space purifying
How to choose a singing bowl
How to take care of singing bowls
Using singing bowl for better sleep
One bowl technique to strengthen the aura
How to offer 1-on-1 singing bowls and tuning fork therapeutic relaxation experience that includes:
One bowl technique for cleansing and protection
One bowl therapy for balancing, muscle tension release and pain relief.
Two bowls therapy for back pain, rejuvenation and relaxation
Tuning fork total-body calming and balancing therapy
Design a therapy session for the client's needs
Use of other instruments to enhance the therapy experience
Price for Singing Bowl & Tuning Fork Practitioner Training:
Full 10 hours training HK$4,000 (Regular Price)
HK$3,600 (Early Bird valid up to 1 month before 1st session)
*Class size limited to ensure optimum learning experience including 1-on-1 guidance.
What to bring to the Singing Bowl Training:
Comfortable clothes and water
*You will receive a certificate at the end of the workshop
*Singing bowls & tuning forks will be available during class and can be purchased at the end of the course
*Special requests can also be made for private training (1-3 people)
About Malbert Lee
Malbert Lee is Hong Kong's leading sound experience facilitator. He has offered over hundreds of public classes and performed at various wellness festivals from Hong Kong to London. He has trained with multiple international gong and singing bowl masters. Malbert has been working with international hotels and trained over 100 people internationally. Thousands of participants have benefited from his service and his mission to use sound to de-stress and heal the world.
-------------------------------------------------------------------------------------
Please drop us an email at info@yogaroomhk.com / call 2544-8398 / WhatsApp 6685-9097 for details.
Booking can also be made directly through our office, please contact us.
T&C:
Please note that once paid, no refund will be offered on trainings and workshops.