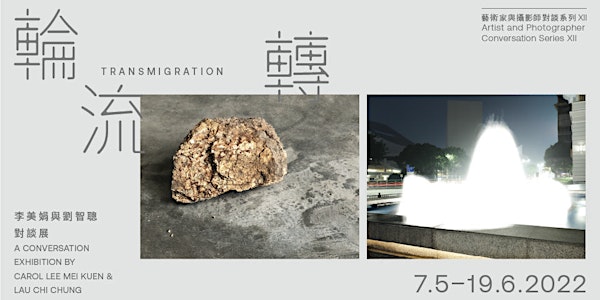 輪流轉 - 李美娟與劉智聰對談展 Transmigration-Carol Lee Mei Kuen & Lau Chi Chung
輪流轉 - 李美娟與劉智聰對談展 Transmigration- A Conversation Exhibition between Carol Lee Mei Kuen & Lau Chi Chung
When and where
Location
Lumenvisum L2-02, Jockey Club Creative Arts Centre 30 Pak Tin Street Shek Kip Mei, KOW Hong Kong
About this event
【藝術家與攝影師對談系列 (12) 輪流轉 - 李美娟與劉智聰對談展】
如果拍照的一瞬間,象徵着過去的時間;照片被觀看的一刻,又處於時間的哪個位置?
光影作坊舉辦第12年的對談系列展覽,邀請了李美娟和劉智聰兩位藝術家交流。李美娟以時間和光進行創作,運用物件和影像,探討大自然與歷史的關係。劉智聰則以相機作為創作工具,幻想照片是一個進入異次元的入口,而不僅是某一刻的客觀現實。
時間不斷向前推進,照片則凝固當中的某一刻;李氏與劉氏的交流和創作,又如何在兩者之間「輸流轉」?
【Artist & Photographer Conversation Series (12) Transmigration- A Conversation Exhibition between Carol Lee Mei Kuen & Lau Chi Chung】
Exploring time and story in photography, "Transmigration" by Carol Lee Mei Kuen & Lau Chi Chung
If the moment of photographing represents the death of time, where is the time when the photograph is being seen?
This year, Lumenvisum invited Artists Carol Lee Mei Kuen & Lau Chi Chung to participate in the 12th Artist & Photographer Conversation series. Carol creates works with time and light as concepts, by using objects and images to explore the relationship between nature and history. Lau used camera as his creative tool, imagining photograph as an entrance of a different dimension, instead of an objective reality only.
Time keeps going forward, while photograph freezes a certain moment of time. How the "transmigration" exists between the conversation and creation of Lee and Lau?