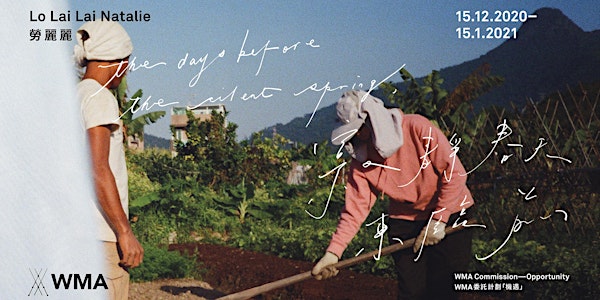 寂靜春天來臨前-勞麗麗個展|The Days Before The Silent Spring-Lo Lai Lai Natalie solo
The Days Before The Silent Spring-Lo Lai Lai Natalie solo exhibition |寂靜春天來臨前-勞麗麗個展
When and where
Location
WMA Space 8/F 23-29 Wing Wo Street Chun Wo Commercial Centre Central, HKI Hong Kong
About this event
WMA is pleased to launch our commission grant artist Lo Lai Lai Natalie's project The Days Before The Silent Spring.
Lo created a five-channel video installation that marks the tenth anniversary of the farming collective Sanwoodgoon. Founded in March 2010, Sangwoodgoon members include photographers, designers, art and culture workers, educators, journalists, researchers, and writers who experimented with living as Half Farmer Half X. Responding to the WMA 2018/2019 theme "Opportunity", Lo's work captured the collective's growth and struggles through reflection on the multitude of worlds tied together and the myriad of life-forms germinated by the practice of farming.
WMA將展出藝術家勞麗麗全新委託項目《寂靜春天來臨前》。
勞麗麗為是次項目創作了一個五頻錄像裝置,記錄生活館成立十年間務農生活的總總。2010年3月成立的「生活館」,由來自不同背景的人組成,包括攝影師、設計師、藝術文化工作者、教師、記者、研究員及作家,學習務農之餘並探索「半農半X」生活方式。作品盛載着生活館成員在務農中的掙扎及成長。勞麗麗透過視角複合的影像,沉思農耕所聯接的多重世界、所萌發的種種生命,並藉此回應WMA 2018/2019的年度主題 ——「機遇」。
Details of public programmes, including a workshop about fermentation by Kishimoto Ho WY, a roundtable with members of Sangwoodgoon and more, will be announced shortly.
展覽進行期間亦會舉辦不同活動,包括與岸本太太合作的發酵工作坊、生活館成員的對談等等,詳情將於不日公佈。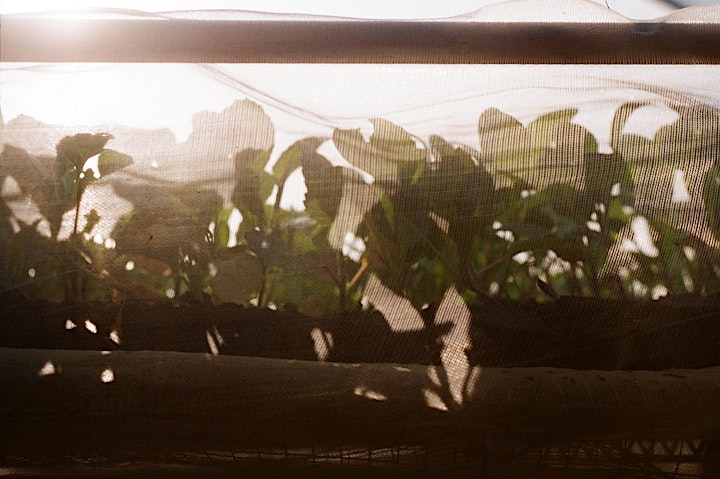 As part of the crowd management and public health safety measures, please reserve your spot before visiting the exhibition.
為控制人流及公眾健康着想,參觀人士須於到訪前預約。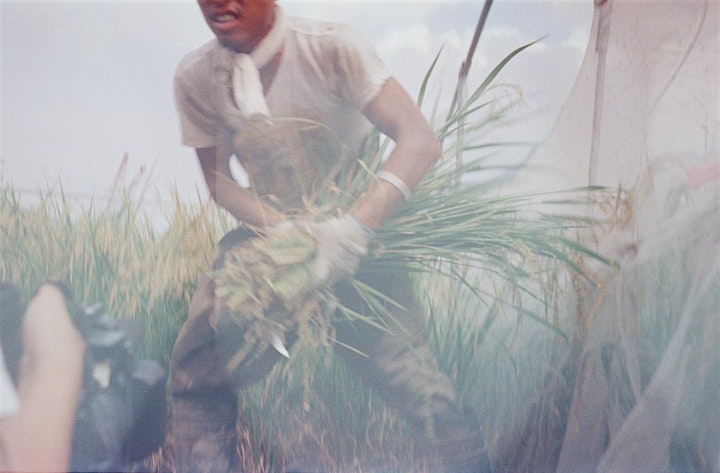 ________________________________________________________________________________________________
Details of the Exhibition 展覽詳情 :
Date /日期 : 15.12.2020 - 15.01.2021
Time/時間 : 12nn - 7pm (星期二至日 Tue to Sun)
Place/地點 : 8/F Chun Wo Commercial Centre, 23-29 Wing Wo Street, Central
WMA Space, 中環永和街23-29號俊和商業中心8樓
________________________________________________________________________________________________
About the artist
Lo Lai Lai Natalie is an artist based in Hong Kong. She received both her Bachelor of Art (Fine Arts) and Master of Fine Arts from the Chinese University of Hong Kong. A former travel journalist, Lo is interested in the development and the construction of nature. She is a learner at the collective organic farm Sangwoodgoon (Hong Kong) where she also explores, as an artist and a Hongkonger, the lifestyle of 'Half-Farming, Half-X', a practice that seeks alternatives and autonomy. Lai Lai finds her interests in food, farming, fermentation, slow-driving, surveillance, and meditation. Mixing multiple media including moving image, photography, and installation. Her works are collected by the Sigg Collection and Asian Art Museum of San Francisco (US). Lo has previously presented solo exhibitions at 'Give no words but mum' (2020, Tomorrow Maybe, Hong Kong), 'Down into the Abyss' (2018, bonacon gallery, Guangzhou, China), 'Slow-So TV - Ann Eilathan's Gaze' (2016, Floating Projects, Hong Kong) and 'Souvenir and Gift' (2014, the Observation Society, Guangzhou, China). She is the recipient of the WMA Commission Grant on the theme 'Opportunity' and her works were presented in San Francisco, Paris, Dresden, Johannesburg, Beijing and Shanghai and more.
關於藝術家
勞麗麗生於香港,獲中文大學文學士及藝術碩士。她是一位「退役」旅遊記者,現專注於大自然生態有關的藝術創作。勞麗麗現時在香港「生活館」學習務農之餘並探索「半農半X」生活方式,這種生活實踐促使她對另類生活模式、以及作為一位香港人兼藝術創作者的自主性作出提問。主要研究課題跟食物、農耕、蘊釀、慢駛、監視、冥想等相關。作品以流動影像、攝影、裝置及混合媒介為主。作品獲希克藏品(The Sigg Collection) 及美國三藩市亞洲藝術博物館收藏。個展包括「保持緘默」(2020,香港 Tommorrow Maybe)、「欲壑難填」(2018,廣州本來畫廊)、「漫慢電視 —— 安・伊莉亞森的凝視」(2016,香港據點。句點)和「紀念品與禮物」(2014,廣州觀察社)。她為香港 WMA 委託計劃「機遇」得主,作品曾於美國三藩市、法國巴黎、德國德勒斯登、南非約翰內斯堡、印尼日惹、中國北京及上海等地展出。
Special thanks to Para Site.
特別鳴謝Para Site藝術空間支持。
________________________________________________________________________________________________
Rules for Visitors
All visitors must follow admission rules and guidelines of the organizer, venue staff and building owner.
WMA Space is a private venue for WMA Members only.
For the purpose of effective crowd management and public health, the organizer has set up a ticketing system. WMA Members should make an appointment before visiting the exhibition or entering the venue.
Each appointment registration can only be used by one person once. Please select the admission date and time, and provide your name and email address for registration.
The exhibition includes a 59 minutes video, registered members who wish to view the entire video should arrive and allow enough time within the registered time slot. Members may be required to leave when the next time slot begins.
Personal data collected herein will be used for membership registration purposes. Please refer to WMA Membership details and WMA's Personal Data Collection Statement.
The appointment time slot is in units of 60 minutes. Visitors should make an appointment one hour before admission.
Wheeled luggages, prams, selfie sticks, hazardous goods and animals (except assistance dogs), are not allowed.
Eating, drinking and smoking is not allowed in the space.
Tickets not issued by the designated event organizing platform will not be recognized by the organizer.
If a typhoon or rainstorm warning signal is issued on the day of the ticket, please pay attention to the organizer's social media platform for the latest arrangements.
The organizer reserves the right to change or revise the content and arrangements of the exhibition for any reason, and subject to change without prior notice.
The organizer reserves the right to define, add and modify the terms and conditions herein. If there is any dispute, the organizer reserves the right to make the final decision. Visitors hereby agree to abide by all the terms and conditions.
訪客須知
所有參觀人士必須遵照主辦單位、場地工作人員及大廈業主之入場規則及指引,否則會被拒絕入場。
展覽場地為私人場所,惟WMA會員方能進場參觀。
為控制人流及公眾健康着想,主辦方特設入場時段預約系統,WMA會員入場前須預約入場時段。
每個預約登記只限一人使用一次,請選擇入場日期及時間,並提供姓名及電郵地址登記。
是次展覽將展出片長59分鐘的錄像作品,已登記入場的會員如欲觀賞整條影片請務必準時出席,會員有機會須於下一時段開始後被要求離開。
是次展覽所收集之個人資料將用作會員註冊,敬請留意。有關WMA收集個人資料詳情,請參考WMA會籍和私隱政策 。
預約時段以一小時為單位,請於到訪前最少一小時前預約。
請勿攜帶任何有輪轆之行李、嬰兒車、自拍棒、危險品及動物(導盲犬除外)入場。
場內不准飲食及嚴禁吸煙。
預約參觀服務如非來自主辦單位指定系統,參觀人士將被拒入場。
如在展覽當日發出颱風或暴雨警告信號,請留意資訊發佈平台了解最新安排。
主辦單位保留因任何原因更改、修訂展覽內容及安排的權利,如有更改,恕不另行通知。
此條款及細則,如有未盡事宜,主辦單位保留所有解釋丶增加及修改之權利,如有任何爭議,主辦單位保留最終決定權。參觀人士謹此同意及遵守所有條款及細則。