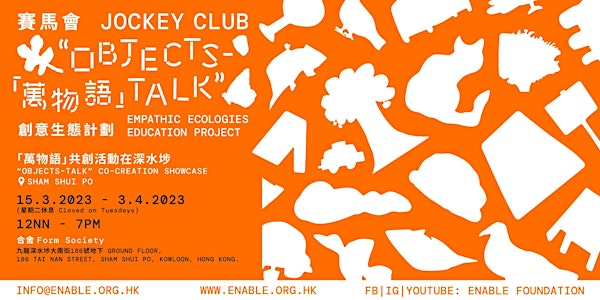 Multiple dates
賽馬會「萬物語」創意生態計劃 -共創活動在深水埗 "Objects-Talk" Co-Creation Showcase, Sham Shui Po
賽馬會「萬物語」創意生態計劃 Jockey Club Empathic Ecologies Education Project 「萬物語」共創活動在深水埗 "Objects-Talk" Co-Creation Showcase, Sham Shui Po
Date and time
Wed, 15 Mar 2023 12:00 - Mon, 3 Apr 2023 19:00 HKT
Location
合舍Form Society Ground Floor 186 Tai Nan Street, Sham Shui Po, Kowloon, Hong Kong 九龍深水埗大南街186號地下 Hong Kong, KOW Hong Kong
About this event
「萬物語」共創活動在深水埗
"Objects-Talk" Co-Creation Showcase at Sham Shui Po
日期 Date: 15.3.2023 - 3.4.2023(星期二休息 Closed on Tuesdays )
時間 Time: 12NN - 7PM
地點 Venue: 合舍,九龍深水埗大南街186號地下 Form Society, Ground Floor 186 Tai Nan Street, Sham Shui Po, Kowloon, Hong Kong
「萬物語」共創活動在嘉道理農場暨植物園
"Objects-Talk" Co-Creation Showcase, Kadoorie Farm and Botanic Garden (KFBG)
日期 Date: 20.4.2023 - 30.4.2023
時間 Time: 10AM - 5PM
地點 Venue: 嘉道理農場暨植物園藝舍(新界大埔林錦公路) KFBG Art House (Kadoorie Farm and Botanic Garden, Lam Kam Road, Tai Po,NT)
詳情在Eventbrite活動頁。
甚麼是深水埗的「萬物語」?我們從垃圾袋、交通燈、雀仔、蝴蝶等,中小大學生眼中的「深水埗萬物」新角度出發,重新探索我們與環境、萬物的關係。
啟民創社誠邀各位街坊朋友、設計師、藝術家、生態專家,由2023年3月15日至4 月3日齊集於深水埗藝文空間合舍,還有2023年4月20至30日在嘉道理農場暨植物園,一起共創賽馬會「萬物語」創意生態計劃的萬物故事,延伸共生共榮的設計方向。
歡迎各位市民、街坊、學校、團體、家庭、朋友參與!
What is Sham Shui Po's "Objects-Talk"? What if we rediscover the Sham Shui Po community through the perspective of "Objects", such as rubbish bags, traffic lights, birds, butterflies etc, as proposed and immersed by students? Enable Foundation invites everyone, including SSP communities, designers, artists, and ecologists, to join our Jockey Club "Objects-talk" Empathic Ecologies Education Project's Co-Creation Showcase to learn more about our relationships with different human and non-human objects, species and environments; and can co-create new eco-innovative ideas for our co-existence.
活動 Activities:
萬物語展 "Objects-Talk" Showcases
萬物語共創工作坊 "Objects-Talk" Co-Creation Workshops
萬物語創意生態對話 "Objects-Talk" Conversations
報名及詳請在Eventbrite活動頁。
Eventbrite link QR Code
IG: jcobjectstalk_projecteee
Project QR code
Website: www.enable.org.hk
FB|IG|YouTube:enablefoundation
Email:project@enable.org.hk
計劃簡介 Project Description
賽馬會「萬物語」 創意生態計劃
賽馬會「萬物語」 創意生態計劃由啟民創社主辦,香港賽馬會慈善信託基金捐助。此跨代/跨界別創意教育計劃為期兩年,於2022年世界地球日啟動。
從「物導向本體論」啟發研伸的設計思維歷程,由中小學生出發、繼與由大專生、社區人士,透過創意學習同理心和生態議題。計劃目的是啟發市民大眾從創新的角度搜尋、了解和學習人類與萬物之間的多元生態關係,增進對生態議題的認識,在跨代、跨界別的共創過程中,激發創新的可能性。
Jockey Club "Objects-Talk" Empathic Ecologies Education Project
Jockey Club "Objects-Talk" Empathic Ecologies Education Project is initiated and organised by Enable Foundation and funded by The Hong Kong Jockey Club Charities Trust. It is a 2-year cross-generational/cross-disciplinary project that was launched on 22 April 2022, the world's Earth Day.
Through a design thinking journey of empathy and ecologies, inspired by the concept of Object-Oriented Ontology(OOO): a new theory of everything. The project aims to enable young citizens and communities to develop empathy through multi-species collaboration, enhance awareness of different ecological issues and co-create social innovative ideas through creative thinking methodologies.
About the organiser
Enable Foundation is a non-profit social design collective with expertise in cross-generational co-creation and design researches for real-world impact. Enable Foundation aims to develop capacity training programmes and projects on design thinking & doing, as well as creativity with individuals, organisations from private and public sectors.
啟民創社是一間從事與社會創新相關的設計的非牟利設計工作室,透過跨代共創和設計研究的專業服務,為全球社會議題提出創新方案。我們的宗旨是運用設計思維及行動,發展針對個人、私營及公營機構的創意力培訓計劃及項目。