About this Event
Details
Date: 12 Sep 2020 (Sat)
Time: 09:30 - 12:30
Venue: Trust Tower, 68 Johnson Road, Wanchai
Format: Tour*
Speaker: Walk in Hong Kong
Register by: 28 Aug 2020 (Fri)
Target: Undergraduates and young graduates (within 2 years)
Applicants may need to provide proof of student status, such as student ID card and graduation certificate 
*Insurance coverage included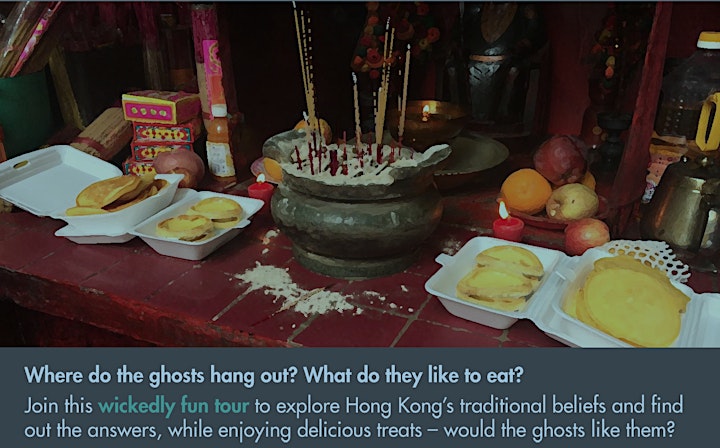 Do you want to re-learn the culture of Hong Kong by the myth!?
Wan Chai is the best neighborhood to showcase Hong Kong's ghosts. Wan Chai, literally "Little Bay" in Cantonese, is one of the first settlements that the British developed after they took Hong Kong in 1841. The original shoreline got marooned inland generations ago, but the deep layers of history anchored along Queen's Road East have conspired with the swirl of 21st-century urban redevelopment to make Wan Chai a fertile ground of merry ghost/myth-making.
And did we say that the ghosts sometimes come out from the underworld and move among the living? So you better watch your back!
Highlights of the Tour
The city's biggest concentration of haunted tales
Urban picnic with soothing tea, yummy buns, fresh-off-the-oven pastries, and a local specialty called "fried ghosts"
The vast range of Chinese gods catering to all your needs and desires
Businesses that cater to all the ghost pleasing rituals
A top haunted house, hipster hangouts, the muffled peal of church bells, forgotten temples, and more!
To heighten your sensory experiences, we will be tasting 5 delicious local treats. Some of them may be offering for the deities or ghosts too!
What Do Ghosts Eat? Wan Chai Ghosts and Food Tour is endorsed and recommended by the Hong Kong Tourism Board.
Personal data collection
The personal data collected will be solely for FINSPIRE event and related promotional purpose.