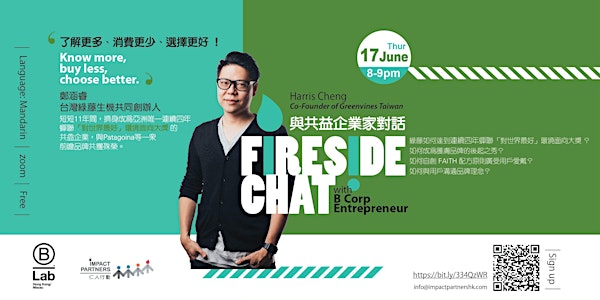 與共益企業家對話 - 綠藤生機 Fireside Chat with B Corp Entrepreneur
與共益企業家對話 - 綠藤生機 Fireside Chat with B Corp Entrepreneurs - Greenvines Taiwan
About this event
與共益企業家對話 - 綠藤生機
短短11年間,擠身成為亞洲唯一連續四年蟬聯「對世界最好」環境面向大獎的 共益企業,與Patagoina等一眾前瞻品牌共獲殊榮。
綠藤如何達到?
如何成為護膚品牌的後起之秀?
如何自創 FAITH 配方原則廣受用戶愛戴?
如何與用戶溝通品牌理念?
綠藤生機是亞洲唯一連續四年蟬聯 「對世界最好」環境面向大獎的B型企業之外,更在 2019 年獲得涵蓋五大影響力面向:公司治理、員工照顧、環境友善、社區照顧和客戶影響力的「對世界最好」總體獎)
6 月17 日晚上與綠藤生機創辦人深入對話。
Fireside Chat with B Corp Entrepreneurs - Greenvines Taiwan
In 11 year's time, Greenvines becomes the only B Corp in Asia to receive "Best for the World" award in 4 consecutive years.
How did Greenvines become a rising star in the skincare industry?
How did Greenvines create your own FAITH principles that is loved by users?
How do Greenvines communicate brand philosophy to users?
主講:
鄭涵睿 Harris Cheng
80 後,擁有台大財務金融系,MIT Sloan MBA 亮眼學歷,在 30 歲前夕毅然決然離開外商銀行,與兩位台大同學廖怡雯、許偉哲在2010年共同創辦了綠藤生機,先從自己培養有機芽菜開始賣,之後又進入護膚市場,試圖透過純淨護膚,創造出更為永續的生活選擇。除了品牌行銷算是「本業」之外,可說是「學非致用」。現職台灣純淨保養品牌綠藤生機共同創辦人與執行長,在 2015 年時讓綠藤成為台灣第三家 B 型企業,更連續四年獲得 B 型企業最高榮譽 ──「對世界最好的企業」環境面項大獎的肯定。也在今年,Harris 獲選《天下雜誌》 40 Future Leaders,透過打造來自台灣的國際性 lifestyle brand,用商業的力量為環境環境帶來正向改變。
「永遠有更好的選擇,對待自己、與所生存的環境」
提起環境危機,鄭涵睿說得迫切。乍聽理想主義,但學財務出身,當過外銀儲幹的他,其實頗諳現實商業邏輯。
日期: 2021年6月17日, 星期四
時間: 晚上8-9時
語言: 普通話
費用全免
好讓大家有更深入的交流,請在登記時留下你想對Greenvines 的Harris發問的問題,我們會盡力安排。