About this Event
2 July 2020 - 23 July 2020
「機遇之後——重讀.回應」是一場以「後設」為概念的「紙上展覽」,將藝術作品、社會時事透過書籍設計及編輯的方式進行詮釋,讓參觀者在觀展過程中建立個人對於出版的思考和想像。展覽透過七本裝幀、選紙、開本各異的攝影集,並延伸出三本關於香港社會現況的書誌,重新想像「機遇」的意義,邀請觀眾以俯瞰的視野,重讀這20年來香港與「機遇」之間複雜難解的關係。
在重讀以後,展覽亦邀請觀眾寫下個人的回應。所有回應將在未來組合成書,成為另一本在「借來的空間;借來的時間」中共同閱讀、共同思考、共同書寫的紀錄。在未來的日子,冀於其他場合重現,引發更大的迴響。
展覽資料
展覽日期 :2020年7月2日 - 2020年7月23日*
展覽時間:星期一至五:12:00 - 19:00* | 星期六至日:10:00 - 19:00*
展覽地點:香港中環永和街23-29號俊和商業中心8樓WMA Space
入場: 費用全免。為確保人流暢通及參觀者能充分體驗展覽,展覽設有網上預約時間制度,同時保留walk-in名額,但主辦單位建議各位預先留位。
查詢: 歡迎致電+852 2322 2610 或電郵至after_opportunity@mosses.hk
資訊發佈平台
Facebook: Mosses
Instagram: Mosses
《機遇之後》新書發佈
是次展覽亦為新書發佈,參觀者可經以下途徑購買《機遇之後》: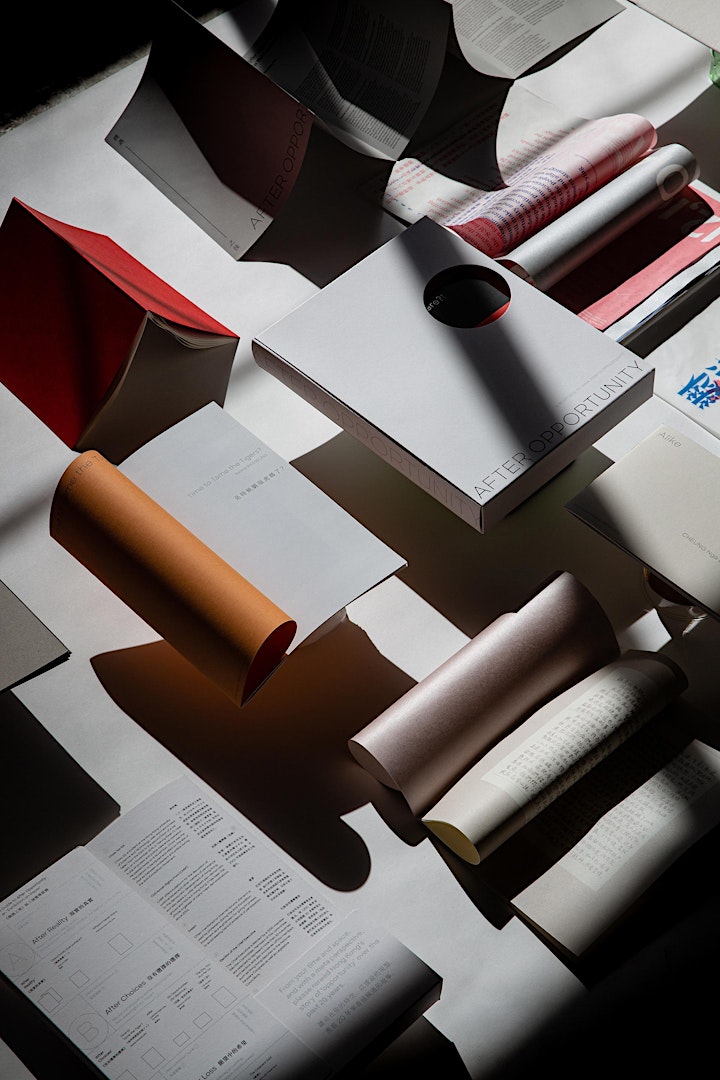 After Opportunity - Rereading and Responding exhibition is an 'Exhibition on Paper' based on the concept of 'meta' where artworks and social issues are reinterpreted through book design and editing, allowing viewers to form their own consideration and imagination of publishing. Through seven photobooks of varied binding styles, materials and sizes, together with the extension of three bookazines about Hong Kong society, the exhibition reimagines the meaning of 'Opportunity' and invites viewers to reread from a bird's-eye view the complex relationship between Hong Kong and 'Opportunity' in the last twenty years.
After rereading, the exhibition invites viewers to choose from the 500 previously prepared pages of vocabulary and write down their personal response. All pages will be compiled into a publication as a record for collective reading, reflecting and writing in this 'borrowed space on borrowed time'. In the future, when displayed at different places, we hope that it will trigger more resonance.
Exhibition Details
Period: 2 July 2020 - 23 July 2020*
Time: Monday - Friday 12pm - 7pm *| Saturday - Sunday 10am - 7pm*
Location: WMA Space, 8/F, Chun Wo Commercial Centre, 23-29 Wing Wo Street, Central, Hong Kong
Admission: Free. To ensure the smooth flow and quality of exhibition, we have set up an online pre-registration system. Visitors can choose to book in advance online or walk in without reservation. However, we strongly encourage visitors to pre-register online as capacity is strictly limited.
Enquiries: Please contact us at +852 2322 2610 or after_opportunity@mosses.hk for enquiries.
Latest Updates
Facebook: Mosses
Instagram: Mosses
After Opportunity Publication
This exhibition is also the book launch for After Opportunity publication.
訪客需知
所有參觀人士必須遵照主辦單位、場地工作人員及大廈業主之入場規則及指引,否則可能會被拒絕入場。
為控制人流,主辦方特設入場時段預約系統,建議參觀人士入場前預約入場時段。
因展覽場地為私人場所,入場人士須註冊成WMA會員方能進入場地參觀,故此是次展覽所收集之個人資料將由主辦方向WMA提供以作會員註冊用途,敬請留意。
請選擇入場日期及時間,並提供姓名及電郵地址登記。有關是次展覽收集個人資料詳情,請查看須知第14項。
每個預約登記只限一人使用一次。
預約時段以一小時為單位,每個時段人數上限為25人。訪客須在入場前一小時成功預約。
敬請在預約開始時間準時到達,若逾時10分鐘,名額將開放給即場訪客。
建議展覽參觀時間約為60分鐘;最後進場時間為展覽關閉前60分鐘。
請勿攜帶任何有輪轆之行李、嬰兒車、自拍棒、危險品及動物入場。
即場參觀人士需要即場登記,或需要排隊等候入場。
場內不准飲食。
預約參觀服務如非來自主辦單位指定系統,參觀人士將被拒入場。
如在展覽當日發出颱風或暴雨警告信號,請留意資訊發佈平台了解最新安排。
有關收集個人資料事宜:https://wma.hk/zh/privacy-policy-2/
主辦單位保留因任何原因更改、修訂展覽內容及安排的權利,如有更改,恕不另行通知。
此條款及細則,如有未盡事宜,主辦單位保留所有解釋丶增加及修改之權利,如有任何爭議,主辦單位保留最終決定權。參觀人士謹此同意及遵守所有條款及細則。