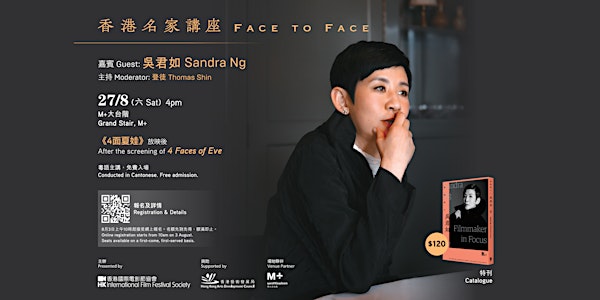 香港名家講座-吳君如+免費放映《4面夏娃》Face to Face with Sandra Ng+Screening "4 Faces of Eve"
Location
M+ 戲院
38 博物館道
Hong Kong, KOW
Hong Kong
Sales Have Ended
Registrations are closed
請列印及帶同門票到場地進場。 Please print and bring your ticket to the venue for admission. 粵語主講,免費入場,不設劃位。 Conducted in Cantonese. Free admission. Free Seating. 場地規則 Ticket clauses – 憑票免費入場,每票只限一人。 - 遲到觀眾需待適當時候方可入場。 - 所有人士不得攜帶食物及危險物品進場,包括樽裝或罐裝之飲品,金 屬罐或利器等。 - 場內不准飲食,不准吸煙。 - 除特許人員外,場內嚴禁攝影、錄音或錄影,違者可被送官究治。 - 任何觀眾若違反大會規則或騷擾他人欣賞節目,工作人員有權勸諭該 觀眾離場。 - 香港國際電影節協會保留增刪演出者名單及修改節目內容之權利,而 不作另行通告。 - Free admission. Each ticket entitles admittance of one person only. - Late comers will only be admitted at appropriate times without causing disturbance to performance. - No foods and beverages, or anything considered dangerous is allowed to be brought into the venue. - No smoking and eating are allowed in the premises. - Unauthorized photo-taking, audio recording and/or filming are strictly prohibited in the venue. - The management has the absolute discretion to ask any person to leave the venue if such person behaves in a noisy, disorderly or objectionable manner. - HKIFF Society reserves the right to add, withdraw or substitute artists and/or vary advertised programmes without prior notice.
《4 面夏娃》免費放映 + 香港名家講座 - 吳君如 | Free Screening of 4 Faces of Eve +Face to Face with Sandra Ng
About this event
承蒙香港藝術發展局資助,《4 面夏娃》將於8月27日作免費放映。放映後將於M+大台階進行香港名家講座 - 吳君如。
8月3日(三)上午10時起接受登記。每位觀眾只可登記門票乙張。名額有限,先到先得,額滿即止。
《4 面夏娃》
日期及時間:8月27日(六) 下午2時
地點:M+戲院
1996 | 91分鐘
香港名家講座 - 吳君如
嘉賓:吳君如
主持:登徒
日期及時間:8月27日(六) 下午4時
地點:M+大台階
粵語主講
***************************************************************************************
Financially supported by Hong Kong Arts Development Council, Free Screening of 4 Faces of Eve will be shown on 27 Aug. Face-to-Face with Sandra Ng will be hold after the screening of 4 Faces of Eve at Grand Stair, M+.
Online registration will start at 10 am on 3 Aug. Each person is entitled to 1 ticket. Limited seats are available. First-come, first-served.
4 Faces of Eve
Date & Time: 27 Aug (Sat) 2pm
Venue: M+ Cinema
1996 | 91 min
Face-to-Face with Sandra Ng
Guest: Sandra Ng
Moderator: Thomas Shin
Date & Time: 27 Aug (Sat) 4pm
Venue: Grand Stair, M+
Conducted in Cantonese
***************************************************************************************
影片簡介:
持續的剝削性丑角演出後,吳君如自覺被定型求變,九七前於商業電台結識一班 用字撚聲奇才,又山水相逢甘國亮,不問市場毅然自資玩一鋪。四段短章有四個 突出形象:嗲聲嗲氣黐實林海峰的尋愛金毛〈白金毛〉,幫葛民輝禁錮莫文蔚目 不識丁的〈食風贊嬌〉,致敬任劍輝男人心女兒身的〈無色無相〉,還有〈愛到 要死〉自況迷失在雄性世俗價值觀中。吳君如性別觸覺加身世辯證,一邊沉思, 一邊反思反智,自嘲身處紛亂侷促,是當代香港電影難得一次女性前衛步伐。
Synopsis:
Part Sandra Ng showcase, part experimental art piece, this four-story anthology portrays multiple feminine facets with startling, sometimes delirious expressionism. Ng delivers driven performances as four different women, each depicting an interpretation of the female experience, be it glorious, pathetic, or even outrageous. The lurid sights and sounds can be credited to the decorated crew, while Ng and her supporting cast deliver the script's postmodern metaphor and shrill satire with admirable abandon.
***************************************************************************************
(i) 根據最新的社交距離措施,放映場地的觀眾入座人數不超過原定可容納人數的8成半。報名程序中,系統會提供當時可供選擇的位置,觀眾亦可自行選擇座位。
According to the latest social distancing measures, The number of audience members in screening venue will be limited to 85% of the original capacity. The computerized registration system will automatically assign a random available seat for the audience, or the audience can choose their preferred seat.
(ii) 請於放映前30分鐘到達放映場地,並出示有效電子門票或列印本,向本會工作人員登記,換領入場門票。
所有於放映開始後仍未完成登記的電子門票或列印本,將作無效。其預留亦會作廢。敬請留意。
Admission tickets redemption will start 30 minutes prior to the screening. Attendees who have made the reservation must present their e-tickets or paper tickets to HKIFFS staff for admission ticket redemption.
The reservation will be voided if E-tickets or paper tickets are not redeemed after the screening started. Thank you for your attention.
(iii) 如有任何爭議,香港國際電影節協會保留最終決定權。
In the event of a dispute, HKIFFS's decision shall be final.